Nearly every film aficionado can cite various lines and scenes from The Godfather. One of the most famous lines from the trilogy occurs in the second installment when Michael Corleone recounts one of the lessons he learned from his father, "Keep your friends close, but your enemies closer."
Businesses seeking to learn from their competitors should not simply copy what they do. Merely mimicking their marketing programs and business practices is a passive imitation that will prove short-lived and ineffective. Understanding the "why" and "how" behind your competitors' strategies provides valuable market analysis and insights into trends.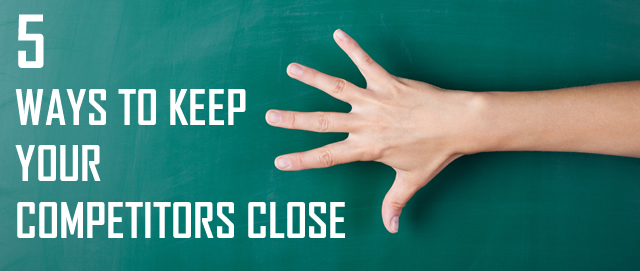 1. Digital Engagement
Responsive websites are the norm today. They must display seamlessly across all types of devices and browsers. Do your competitors have responsive websites? Do you? If you are behind on this front, then you need to catch up.
2. Website Traffic
There are a growing number of applications that allow companies to see what personas and visitors are hitting competitor websites—and how they are getting there. Audienti and SimilarWeb are two applications that provide this type of intelligence. There are some SEO tools such as Open Site Explorer from Moz and SEMrush that give companies the ability to see which websites are referring the most traffic to competitor websites. In addition to creating a list of websites to target for backlinks, businesses can concurrently gain insights into what keywords are generating the most traffic for competitors.
3. Search
There are a number of tools that enable companies to discover how often visitors are getting to your competitor's websites.
Leveraging the intelligence gathered about competitors, businesses can optimize their organic and paid search efforts to generate more traffic, and moreover the kind of traffic that will produce measureable results.
4. Content Marketing
Understanding your audience is an essential building block to content marketing. Organizations that fail to develop buyer and customer personas and journey maps for each one put themselves at a disadvantage directly out of the gate. All too often, businesses focus their content creation efforts on one segment of the funnel and moreover on only a portion of the personas who make or influence decisions.
In the case of competitive research, analysis of what content your competitors are creating and what their campaigns look like can identify holes in your campaign and content strategies. Alternatively, this competitive analysis can pinpoint gaps in competitor strategies and execution that can be exposed (missed opportunities that a business can leverage).
5. Social Media
Just as it important to understand what your competitors are doing on their websites, it is also important to know what they are doing on social networks. Getting the scoop on what rivals are doing on social networks and what content is resonating enables businesses to determine whether it is most effective to post photos or videos, what types of captions to include, and when to post videos and photos. They can also see what competitor social posts are performing the best and use this data to come up with their own high-performing posts.
Competing as a small business is never an easy undertaking. My Executive Center has worked with hundreds of small businesses to help them compete like big businesses by leveraging our broad portfolio of services. For help in tackling your business needs, get in touch with us today!